Here's our simple steps to adopting a cat or dog from RSPCA Craven & Upper Wharfedale branch..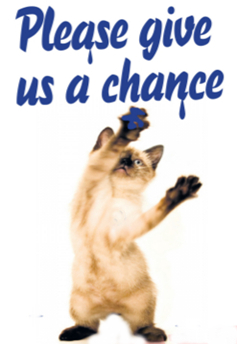 We always have cats and dogs that are looking for their 'forever homes'. Some of the animals have not had the best start in life but they are still willing to show us love and affection. It's our aim to make sure that all our animals are re-homed in the best possible environment. Please look at the steps below if you are interested in adopting from us. Adoption Fees: Our dog/puppy adoption fee is £125 and our cat/kitten adoption fee is £70. As per RSPCA policy, all animals will be neutered, vaccinated & microchipped. Cats will also be FIV/Felv tested too. Anyone adopting from us will also qualify for a free six weeks no obligation pet insurance trial. This is all included with our branch adoption fee.
1. First Steps
All animals in branch care are shown on our website – please take the time to read the text on each animal. We will provide you with as much background information as we possibly can. In cases where an animal has been signed over to us by the inspectorate (cruelty or neglect cases) we may not have vast amounts of information on the animal. We will also try to advise if an animal can be re-homed with other pets or children.
2. Contacting Us
If you wish to arrange a viewing please send an email to: enquiries@rspca-craven.org.uk please try to include as much information as possible; where you live, if you have children or other pets and work commitments etc. Any information you can provide will help us to make sure we match an animal to your circumstances. Our emails are checked at regular intervals and we aim to respond within 24 hours but usually its much sooner than this. You can also contact our branch phone line on weekends (Friday morning until Sunday teatime) please ring 07949 229955. We try to make the adoption process as easy as possible, please don't be put off by any questions we might ask - we are the only voices that the animals have and we simply want to make sure that the animal finds a loving 'forever home'
3. Next Steps
It is RSPCA policy to carry out a 'home visit' before adoption takes place. If you live out of our branch area we may ask your local branch to carry out the visit on our behalf. If you live in rented accommodation we may need a letter from your landlord to state that you can keep pets at the property. All members of the household will usually need to be present when the visit takes place.
4. Final Steps & Adoption Fees

 
After the home visit has been completed successfully we will arrange a date for collection, this is where we will complete the transfer of ownership forms and the branch adoption fee will become payable. We are always here to help you either before, during or after the adoption process. If you need any further assistance please send us and email or give us a call on a weekend. If you do not want the long-term commitment of adopting a pet and you live within our branch area, why not join our fostering scheme? further information here