RSPCA Cats & Kittens For Adoption - Keighley & Craven District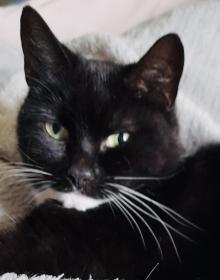 Name: DEELEY
Age: 3 YEARS APPROX
Breed: DOMESTIC SHORT HAIR
Details:
Deeley is a lovely young girl aged approximately 3 years old. She hasn't been with us for very long but you can read what her foster carer has had to say about her below..
'Deeley has only been with me a couple of weeks and she has shown that she is a lovely, friendly little girl who is very clean and always uses her litter tray. Deeley is a good eater and is not at all fussy, she has settled well with my own resident cats and may be able to live with another laid back cat after careful and slow introductions. My own cats are very relaxed and are used to cats coming and going. Deeley can be quiet and a little bit timid, she likes to lay on the back of the sofa and look out of the window but she also likes to have quiet time and goes for a sleep in her room where it's nice and quiet. Deeley is not a cuddly 'lap cat' and doesn't like to be picked up, she also doesn't know how to play and seems to be afraid when I show her some cat toys. Any new owner will have to be very patient with her and give her time to settle. Deeley hasn't shown any desire to go outside and with her being timid, she might decide to be a permanent house cat. She will need a new home where her owners are happy to let her decide and not force her to go outdoors if she doesn't want to, she will also need a child free home too. Deeley will make a lovely companion once she has settled in with her new owners, could you have the perfect home for her?'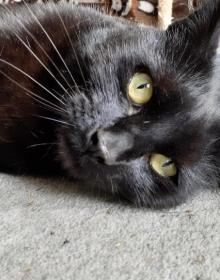 Name: OLIVER
Age: 5 YEARS OLD APPROX.
Breed: DOMESTIC SHORT HAIR
Details:
Oliver is a friendly 5 year old boy who is very laid back and likes to roll about with his catnip toys. He loves looking out of the window and sleeping full length on the window sill at his foster carers home. Oliver will want to explore outdoors when he is settled and will need a safe garden area which is away from any busy roads. Could you offer Oliver a new home?