RSPCA Cats & Kittens For Adoption - Keighley & Craven District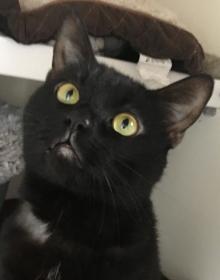 Name: THEO
Age: 2 YEARS OLD APPROX.
Breed: DOMESTIC SHORT HAIR
Details:
Theo is a very friendly and affectionate boy aged around 2 years old. He came to us from the inspectors after he was abandoned with a severe flea allergy -  he has been treated for fleas at our vets and his skin is healthy and his fur is now growing back (see multi images). Like any cat, he will need flea treatment prescribed from the vets on a regular basis. He is a little shy at the moment and would need a slow and steady introduction into a new home until he got used to his new surroundings. Theo would be best in a home without any young children, he would also need an area that is  well away from any busy roads so that he can safely play outside when he is ready. Theo is a lovely boy who deserves a new home to come along soon, he also uses his litter tray without any issues.