RSPCA Cats & Kittens For Adoption - Keighley & Craven District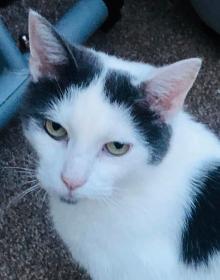 Name: DUKE
Age: 2 YEARS OLD APPROX.
Breed: DOMESTIC SHORT HAIR
Details:
Duke is a lovely handsome white & grey chap aged approx 2 years old. He has had a hard start to his life so he now deserves a loving home to call his own. Duke is very friendly and likes to be stroked and will even be brushed but, like any cat, its on his terms. He likes to be stroked and will lay at the side of you and give you head bumps but he is not a cuddly cat, he will also use his litter tray without any issues. We don't have any idea if Duke would be ok with other cats; he could settle with a friendly and laid back cat in his new home if careful and slow introductions were made. He is certainly not fazed by the foster carers dogs and may be able to live with a cat savvy dog. Duke definitely wants to go out and explore (he has tried to break out of the foster carers spare bedroom a few times!) but he likes his naps and comfort too, he stretches out but never falls off the settee! Duke really deserves a loving home ideally with a garden where he can explore and in an area away from any busy main roads. Could you have the perfect home for Duke?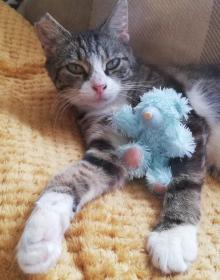 Name: GLENDA
Age: 12 MONTHS APPROX.
Breed: DOMESTIC SHORT HAIR
Details:
Glenda is a really sweet girl who hasn't had an easy young life; she now deserves a loving home to call her own. Please read her story below which was sent to us from her foster carer..
'Meet Glenda - what a long way she has come in just a couple of weeks! When she arrived in foster with us she had not long since given birth to three beautiful kittens, all when she was only a kitten herself. She was assumed to be feral but it was soon realised that she was definitely not feral! In her first week with us she was shy; she hid, hated loud noises and sudden movements and was physically trebling and growling when we went near her. Fast forward two weeks and she is loving, loves a fuss, lies on her blanket with us on the sofa, purrs really loud and sits at the window curious about the world outside. Her tail even trembles sometimes when she is getting attention as she can't believe her luck! It's one of the fastest transformations we have ever seen. She loves her food and is not at all fussy, she will eat anything. She uses her litter tray and her scratching post. She had never had a toy of her own before and she was very wary of them at first but  now she loves them. Her favourite is her squirrel on a string, she often falls asleep with her head on it mid-game! She is such a beautiful girl and is gaining more and more confidence every day. She will need an experienced owner who is willing to give her a bit of time and patience to come out of her shell. She would be best placed as an only cat and with no very young children but may be OK with an older, calmer dog. This lovely young girl really deserves her very own forever home after everything she has been through in her short life and has lots of love to give to the right person or people. Could that be you?'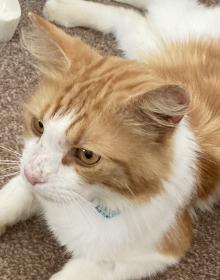 Name: BINKS
Age: 3 YEARS APPROX
Breed: DOMESTIC SEMI LONG HAIR
Details:
'Binks' is a lovely semi long-haired boy aged 2/3 years old. Binks is very, very affectionate and playful and will make a great companion, he is quite small for a male cat. He is also very clean and uses his litter tray without any issues. He hasn't been tested with dogs but we think he would be ok with a friendly dog after careful introductions have been made. Could you offer him the new start that he deserves?