RSPCA Cats & Kittens For Adoption - Keighley & Craven District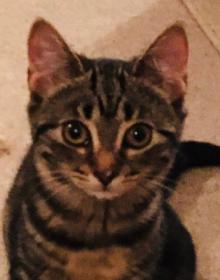 Name: AGNES
Age: 16 WEEKS OLD
Breed: DOMESTIC SHORT HAIR
Details:
Agnes is around 16 weeks old and is a real live wire and definitely not a cat for the faint hearted! She is currently in branch foster carer where she is doing really well, she gets on with the resident dog but will need to be an only cat. Our foster carer is happy to speak with anyone who is interested in adopting her, please read the carers first update below..

'Agnes is a really sweet looking girl but don't judge her just on her appearance! She is a live wire and very demanding, she wraps herself round your legs when your walking and this could obviously cause a trip hazard for anyone who isn't too steady on their feet. She can also scratch furniture if she gets bored and I really think she would benefit from being re-homed with a family with older children - somewhere she can gets lots of stimulation and play. We would have to say no to really young children as she can be quite rough when she is playing. Once Agnes settles down she is very loving and turns into an affectionate little girl. She will make a great addition to the right home, could you be a match for what she needs?'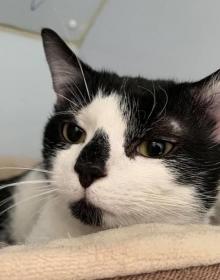 Name: FRANKIE
Age: 3 YEARS APPROX
Breed: DOMESTIC SHORT HAIR
Details:
Frankie came to us as an abandonment case from the inspectorate team. He was in quite a bad state and had obviously been on the streets for a while, he also had an injury to his tail (see multi picture) which was checked at the vets, and now the fur has grown back and he is fit and well. Frankie was recently adopted but his needs and ways have become more apparent over the last few months and his new owner has sadly had to decide to return him to us. Frankie needs a different type of home where he has more access to gardens and fields etc.
Frankie is a lovely boy who is very clean and likes to curl up on his favourite chair, he does not like lots of fuss or being picked up and will bite if he has had enough (like many cats really) he would lay at the side of his owner quite happily but after a few strokes that was enough for him. He isn't a nasty cat at all, he just knows what he wants and when he wants it. Frankie does like going out especially at night when it's quiet (he is easily spooked by strangers and noises) He will come in, eat and have a nap and sometimes want to go out again where he can have little adventures. He needs a quiet area away from busy roads where he feels less scared, definitely surrounded by lots of gardens or fields and will need a cat flap or 24 hr access through a window so he knows he can get back to safety quickly if he needs to. A cat experienced owner is also a must. We are sure that we can find Frankie a home where his new owners can meet his needs, could that be you?