RSPCA Cats & Kittens For Adoption - Keighley & Craven District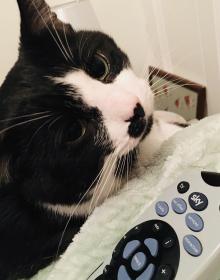 Name: DUSTY
Age: 2 YEARS APPROX
Breed: DOMESTIC SHORT HAIR
Details:
WE CANNOT BELIEVE THIS HANDSOME CHAP WHO LOVES CUDDLES IS STILL WITH US! ....... 
 Dusty is a lovely 2 year old tuxedo male cat who came to us with another cat called Pudsey (who has since been re-homed) they were signed over from a multi cat household. Once again it's the same story of people having too many cats and not getting them neutered! Dusty is now in foster care where he has settled in really well, he is a friendly and loving boy who loves to have cuddles with his fosterer and he also likes to sleep on the comfy bed too. His foster carer couldn't get on with any jobs as he was demanding her attention! He is really showing his affectionate personality and now even paws at the fosterer if she has the audacity to not be paying him enough attention! 
He loves to be warm and he has been found sleeping on the mantlepiece above the fire , and the fosterer even found him asleep on her hot water bottle in bed , so he definitely loves his home comforts . 
Dusty is definitely happier being the only cat in a home but he is fine with the foster carers resident dogs. We do always recommend careful introductions to any resident pets and we can offer advice with this. Could you offer Dusty a special place in your heart and home? He will make someone a lovely addition to their home.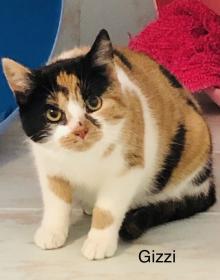 Name: GIZZI
Age: 9 MONTHS APPROX.
Breed: DOMESTIC SHORT HAIR
Details:
Gizzi is a beautiful young girl aged 9 months old with striking markings who came to us after being signed over with 5 other cats. She is only young and is a little timid initially but soon comes round. She has gone into foster care and has quickly settled in making it known she likes fuss and tickles and exploring. She needs a home where someone will spend time playing with her as she is still a kitten in so many ways.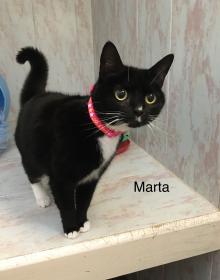 Name: MARTA
Age: 5-6 YEARS APPROX
Breed: DOMESTIC SHORT HAIR
Details:
 Marta is a gorgeous, wide-eyed, pretty girl who was left in a house with no food or water for 7 days as her owner had sadly died.  She was signed over to the Inspector by a next of kin but no one knew anything  about her .. all we know is she lived with dogs but not how she got on with them but her original fosterer had two dogs and she did not seem fazed by them so there is every chance she could live with a cat savvy dog..
She is in foster now and growing in confidence daily.
She was nervous at first but soon came round as the fosterer's just left her and waited for her to come to them as well as giving her a stroke when putting her food down. She now will come to the fosterer of her own accord .  
She is a very independent little madam, she will jump on your knee for a stroke but if she's had enough she will jump away.  Like many cats she doesn't like being held so no young children for her . She would be better in a quieter household. 
She needs a cat experienced owner who will accept her for the lovely cat she is but also give her time to get used to her new life. She did seem very interested in what' was going on outside when she was initially staying in the conservatory .. and she is clean and uses her litter tray .
Can you give this lovely lady her forever home?