RSPCA Cats & Kittens For Adoption - Keighley & Craven District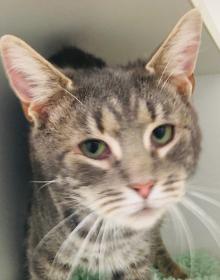 RESERVED
Name: BAILEY
Age: 8-9 YEARS OLD
Breed: DOMESTIC SHORT HAIR
Details:
BAILEY IS NOW RESERVED
Bailey is a handsome grey tabby who came to us from the inspectorate team. Bailey has been vet checked and needed a few teeth out, the poor lad must have been in pain but he is now healed and ready for his new forever home. Bailey is now in foster care and you can read the update sent to us from his carer below..
'Bailey is a really lovely, lively & friendly cat. He loves company but he definitely would need to be an only cat in his new home. Bailey uses his litter tray without any problems and he also loves his food and will let you know when he's hungry. He likes to come and sit on your knee and curl up and will purr away happily. Bailey was used to going outdoors and will need a home where he can go outside if he wants to but it needs to be on his terms and not to be forced to go out. Bailey will make a great companion for someone, could you offer him the loving forever home he deserves?