RSPCA Dogs & Puppies For Adoption - Craven & Keighley District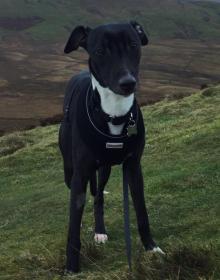 Name: Jack.
Age: 18 Months Approx
Breed: Lurcher
Details:
Poor Jack is now back with us and yet again looking for a loving forever home. He has been returned through no fault of his own whatsoever, his new owners are unable to keep him due to their own personal issues. Jack has had a bad start to his life and we were hoping that he had finally found his happy ending. Please read the wording below and you will see what a lovely boy he is. After so much unsettlement, his next owner really must be his forever one..
Wording sent in by his previous owners..
'Jack settled in well and with us and with regular prompting he quickly became house trained, slept well in his crate and also when left at night. We had a dog walker who reported to us that he was 'a dream dog! He doesn't pull on the lead, is dog friendly, loves people and happily travels in the car too. He is a bit nervous when near traffic but with reassurance he quickly settles. He is very affectionate and loves to cuddle on the couch at night. It is nothing Jack has done that has caused us to make the sad decision to return him but a personal problem and we do hope he finds his forever home quickly as he is such a lovely dog and deserves some happiness in his life' 
Branch Wording..
Jack is a lovely, gentle and slightly timid smallish lurcher. He has come to us after sadly being abandoned, he has a few scars which lead us to believe he has been used as a working dog and he may have even been dumped because he failed at being a working dog. Poor Jack can be a little timid when you first meet him but after being in foster and his temporary new home (see wording above) his confidence has grown, we hope his recent unsettlement will not be too much of a setback for him but his next home really has to be his last.
Jack is more slightly built than a lot of lurchers and he has obviously not had a lot of love or affection in his short life and we hope to find him a home to give him this as he gives it back in bucket loads. We think he will make a lovely addition to a family but due to his timidity we recommend a home where any children are aged over 8 years old. He will also need a home without cats or other 'small furries' too but he could easily live with another friendly dog. Jack really is a lovely, clever boy who doesn't deserve the life he has had so far, we are sure that his special home is out there somewhere. If you can offer Jack a home for life then please contact us and arrange to come and meet him. Once you see him, you will adore him like we do.
 BRANCH ADOPTION NOTES:              
Our dog/puppy adoption fee is £125. The adoption fee includes: neutering, vaccinations & micro-chipping. If you would like to arrange a viewing you can find out the next steps here
Name: Bridie
Age: Staff
Breed: 9 Years Approx.
Details:
We cannot believe we have had no calls for this delightful little girl! PLEASE read what her weekend fosterer has to say about her, she is such a special girl who needs to be in her own home soon..
Bridie is currently being cared for at branch kennels, if you could offer her a local foster place until she is adopted, please contact us to discuss. She would need a home where she is the only pet. We would really appreciate your help in giving her a full time foster home until her special place comes along, she must be missing having that special someone to snuggle up with as she is such a 'people' dog. She loves her tummy rubs and is very clean and not destructive in anyway.  
Weekend foster carers update..
'I had walked Bridie a few times and found her delightful so I decided to try her at my home for the weekend. I can honestly say that she is no trouble whatsoever, she is very clean in the house and either followed me about or just chilled out on the sofa! I got her a new bed as a little treat but she seemed to prefer her own corner on the settee where she slept really soundly (as you can see from the picture) My daughter and her friend came round and made a big fuss of Bridie which she seemed to love. She met quite a few people on her walks and was friendly with everyone. She is very responsive to commands and doesn't bother with anything in the house, nothing was chewed or messed with at all. She wasn't interested in anything lying about, after an initial sniff around she settled very quickly. She doesn't beg for food and she is great to walk as she doesn't pull, I didn't hear even a sound from her during the night. Bridie does react a little bit to other dogs when on the lead but as she is small this is easily managed and advice will be given on the best way to handle this. This is a small negative against all her many good points. I just wish people would come and meet her and see what a sweetheart she is. I just know that Bridie will make someone a fabulous pet, she isn't needy and just wants her home comforts with a loving person to take care of her. If I didn't work away I would be very tempted to keep her full time but I will continue giving her a break from kennels as much as possible, so far it has been the last three weekends, ideally she would be better with a long term foster or better still her very own FOREVER home'
Branch wording..
Bridie is a small and adorable female staffy who is back with us for rehoming after 4 years (through no fault of her own) Bridie is 9 years old and a bundle of love but please don't let her age fool you, she is still very energetic and loves her walks and to play with her ball. She adores human contact (especially tummy rubs) and the kennel staff and our dogwalkers adore her too. We have had Bridie assessed by a dog behaviourist who says she is a happy and healthy dog who is very affectionate and loves attention and meeting people too. Bridie will need a home with someone who is confident with her. Bridie can be slightly reactive when meeting other dogs in small spaces and she doesn't like boisterous and energetic dogs – she is an older lady and so she's entitled to some peace! Bridie will make a great companion for the right owner, we have a full report from the behaviourist which we will happily discuss and share with anyone who is interested in adopting her.
When Bridie is taken into the large sand school she runs around like a little greyhound, she loves stretching her legs but will come back as soon as you call her - (usually for another tummy rub) and her recall is very good. She is just as happy to walk nicely by your side too. She is a happy little girl who wants to be loved and will give you lots of love in return! She has plenty of life in her and she deserves to have her final forever home to enjoy life to the full. Please come and see her, you won't be disappointed. Could you offer this adorable lady a new home with you?
BRANCH ADOPTION NOTES:              
Our dog/puppy adoption fee is £125. The adoption fee includes: neutering, vaccinations & micro-chipping. If you would like to arrange a viewing you can find out the next steps here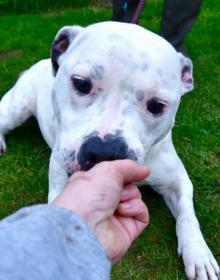 Name: Benny
Age: 5 Years Approx
Breed: Staff
Details:
If you are looking for a loving boy to join your family, please look no further than Benny. He has been with us a few months now and has had no calls at all. Could you be the one to offer a home for life? He really is a little star..
Meet Benny, he's quite chunky and he is a sweet, typical staffie boy who wants kisses and lots of fuss and belly rubs! He can be quite giddy but all he really wants is your time and attention. He already knows how to sit and some other commands - one is 'leave' when he is playing with a toy. He loves his treats and will take them really gently too.
Benny is quite strong on his lead but he would benefit from some exercise in a safe, enclosed area where he can burn off some of his energy. He would need some work on his recall, if he sees someone while out and about, he wants to run and greet them. He initially seems to be fine with other dogs, he was actually licking another dogs face through the kennel when he arrived! He has lived with children and cats in his previous home, although he was a little too bouncy for the cats to tolerate him. Due to his giddiness we would recommend a home where children are aged over 10 years old, only because he could knock a small child over in play. We are told that Benny is fine to be left alone in the home for a few hours per day. Benny is a lovely boy who deserves a chance in a loving home, he would benefit from some training and needs an active owner who can take him out and burn off some of that energy. He was fine when he went to the vets (apart from thinking the vet just wanted to tickle his tummy so kept rolling on his back!) he settled well in the car, in fact once he is with you he does calm down - he just loves being with someone. He really is a little star, can you offer him a new start in life? Just come and meet him and you will fall in love.
BRANCH ADOPTION NOTES:              
Our dog/puppy adoption fee is £125. The adoption fee includes: neutering, vaccinations & micro-chipping. If you would like to arrange a viewing you can find out the next steps here