RSPCA Dogs & Puppies For Adoption - Keighley & Craven District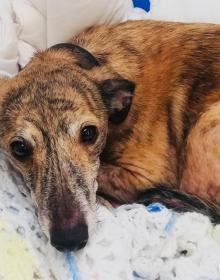 Name: FERN
Age: 6-7 YEARS APPROX.
Breed: WHIPPET CROSS
Details:
LOCAL FOSTER HOME REQUEST ( witha  view to adoption) - CAN YOU HELP FERN? PLEASE READ ON TO FIND OUT MORE ABOUT THIS LOVELY GIRL..
The main reason we are looking for  foster home first is because after her bad life and unsettlement we dont want someone  adopting her then realising  her very slight issues  are not for them  then bringing her  back BUT if someone did foster her they would of course have priority in adopting her ...she is very clean in her kennel, is not destructive just has anxiety issues which are getting better daily but we think a home environment will take her that next step forward...
We are looking for a very special local foster home to help our lovely little lady 'Fern'. Her foster home would need to be within a radius of Keighley, Skipton,Barnoldswick, Colne,  Nelson, areas   or RSPCA East lancs area - ,  Burnley , Altham, Accrington, 
Fern is approximately 6-7 years old and is a whippet/terrier cross. She came from a bad home and had some issues related to anxiety  but these have been worked with and we are now seeing a vast improvement which is why we are now trying to find a foster home as the next positive step forward for her. Fern needs someone who is dog experienced, without children or other animals and who is at home most of the time. She is a lovely little girl and is very clean in her kennel. You would need to keep detailed notes of her behaviour to help with her ongoing behaviour assessments and follow the training advice given as well as ensuring she takes her medication. The medication is to help with her anxiety & when the time comes to stop the medication it would be thoroughly discussed with the behaviour specialist overseeing her case. Fern loves her walks but also loves being snuggly by someone's side. She is a lovely, friendly little girl who just needs a special someone to give her a chance, we would be on hand to offer full support alongside the staff at our kennels. All expenses would be covered including any mileage for travel. We do need to have a foster carer who is local to our area and of course you would be able to meet Fern at the kennels and the staff would discuss what training they have been doing with her. All the staff at RSPCA Lancashire East adore Fern and she is often found on a big comfy bed, overseeing reception and enjoying all the attention she is shown. We know there are a lot of boxes to tick but she really is worth it and we are sure that the person to help her is out there somewhere, we just need to find you!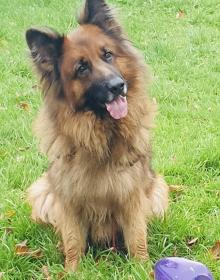 Name: MAX
Age: 4 YEARS APPROX
Breed: GERMAN SHEPHERD
Details:
We are advertising Max on behalf of RSPCA East Lancs branch. If you would like more information, please call them directly on 01254 231118 Thank You.
Max is a very handsome boy who loves playing with his toys. He has found it stressful in the kennel environment and can be reactive to dogs and some people who take him by surprise, so we have trained him to happily wear a muzzle whilst he is out on walks. Max needs a home with an owner who has had previous experience of the breed and who can spot the signs of over excitement early enough to help him remain calm so he can make the right decisions. Max has had training to help him past this reactiveness and has shown great improvement however his new owners must be willing to continue this and training advice will be given. He is very responsive and loving once he knows his boundaries, so long as you are calm but confident with him. With all this in mind and the fact Max is such a big boy he must be the only pet in the house with adult only adopters. All Max wants is a second chance at his happy ever after and to be the loving, loyal companion we know he can be.