RSPCA Dogs & Puppies For Adoption - Craven & Keighley District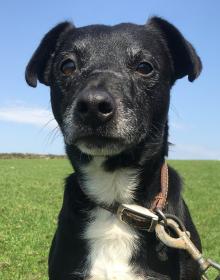 Name: DUKE
Age: 9 YEARS APPROX.
Breed: PATTERDALE
Details:
Duke came to us via the Inspectorate team as his owner became ill and could no longer cope with him. Duke may be 9 years old but he is a typical Patterdale; still full of energy and in good health. He was used as a working dog in the past and so he can't be re-homed with any cats or other small furries. 
Duke will need someone who understands his breed and who can take him on the long walks he loves. A 'terrier escape proof' garden with a decent height fence or a yard with high walls is also a must. Duke's previous owner told us that he is house trained and not destructive in the house and can be left for a few hours with no problem.
One of our volunteers has spent quite a bit of time with Duke recently and she sent us this quick bullet point list of his positives..
He is really friendly and loving, loves a head stroke and nestles into your hand.
He is excellent in the car and loves to look out of the window.
Very clean in his kennel.
Gentle when taking treats.
Walks nicely on the lead - no issues with passing traffic including lorries and buses too.
Sprightly and alert.
Sits well and was very well behaved at the vets, no issues with handling him, having his temperature taken etc. 
He can sometimes react slightly to other dogs but this is easily avoided and advice will be given as its quite easy to deal with. . Duke's positives far outweigh that one negative.
I really do think that Duke is a wonderful dog that just needs a chance – please come and meet him and see what you think.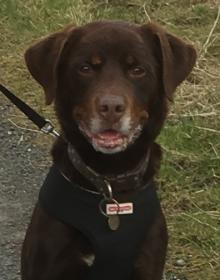 Name: MARSHALL
Age: 7 YEARS APPROX.
Breed: LAB CROSS
Details:
Meet marvellous Marshall, a lab cross aged approximately 7 years old. He was signed over to one of our inspectors due to the death of his owner. Everyone who meets Marshall adores him. He is a strong lad, so will need an active owner with experience of larger breeds and who will take him out on lots of walks which he loves - he does walk well on his lead. He will also need a garden or yard where he can have an explore around. Marshall would be better as the only pet in the home. 
Marshall is good in the house and not destructive, but he can be a bit needy; that's understandable after all his unsettlement. He can be left for a few hours, but we advise that this is built up gradually. Our dog walking volunteers regularly take him out and everyone says what a fantastic dog he is. He responds to his name and loves treats too. He loves being stroked and petted and is an ideal candidate for continued training. He picked up clicker training really quickly and one of our volunteers tried him on whistle response - after only 3 times he was very responsive as he really is one smart dog! He also travels well in the car. 
Marshall could  live with chldren over 14 years .
 It is clear Marshall was never socialised with dogs in the correct way and this does need working on, he needs an experienced, strong, patient and committed owner who will dedicate time to him. Marshall has already proved he is eager to learn and please and just needs that special someone who is willing to give him a chance. If you are looking for a dog that would make a lovely companion – please stop your search here!