RSPCA Dogs & Puppies For Adoption - Craven & Keighley District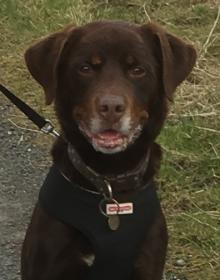 Name: Marshall
Age: 6 Years Approx
Breed: LAB x
Details:
Lots of new pictures added - please give Marshall a chance and arrange to come and meet him, he is ready and waiting for you!
Meet marvellous Marshall, a lab cross aged about 6 years old. He was signed over to one of our inspectors due to the death of his owner. Everyone who meets Marshall adores him.He is a strong lad, so will need an active owner who is experienced with larger breeds and will take him out on lots of  walks which he loves. He will also need a garden or yard where he can have an explore around. We feel that Marshall would be better as the only pet in the home. Marshall has a lot of unsettlement recently and may need a bit of  refreshment on his house training, but this shouldn't be a problem as he is a quick learner and loves to please.
Marshall has recently been assessed by an RSPCA dog behaviourist/trainer and our volunteers have taken him out a few times, everyone says what a fantastic dog he is. Marshall is a comfortable, confident dog, responsive to his name and loves treats. He loves being stroked and petted and is an ideal candidate for continued training. He picked up clicker training really quickly and one of our volunteers tried him on whistle response after only 3 times he was very responsive- he really is one smart dog!
Initial car journeys had Marshall slightly worried, but recently, although ungainly, he will attempt to jump/scramble into the back of the car and look out of the back window. Marshall has been under socialised with other dogs, but with work and patience he will soon learn to greet other dogs in an appropriate manner. During the assessment it was evident that Marshall was a guarder of toys. Possibly he hadn't previously had any toys or they had been removed, but during the assessment he would swop the toy for another or a high value treat, only because of this we would  not rehome with children under 12 years of age.
Marshall needs a dedicated, loving, active owner who would continue and develop his training. He has already proved he is eager to learn and please.Marshall will make a great companion for that special someone, please come and meet him and see for yourself.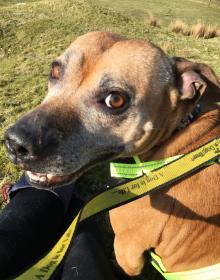 Name: Becky
Age: 8 Years Old Approx
Breed: Cross breed
Details:
Please come and meet Becky , she is truly an affectionate adorable girl who just wants to love and be loved. 
Becky is approx. 8 years old , small-med build, and is sadly another abandonment case. We don't know much of her background but she is very friendly and loves to play, she is very clean and isn't destructive in her kennel. Of course, we don't know how she is in a home environment but we always say to treat as if a puppy to start with, she is a clever girl and a very quick learner and definitely would love a settee to snuggle with you on. She has been walked with other non reactive dogs and is great , no negative reactions .. just a waggy tail. She doesnt even react to the chickens , goats and pigs that potter outside round the kennels when she passes them on her walks .
She also loves having a bath .
 Becky has been checked by a vet and is in good health and just needs that special someone to come along and give her the love and the life she truly deserves.  
Please read the wording sent to us from the volunteer who has spent quite a bit of time with Becky..
'I recently took Becky to the vets for her vaccinations. She was much calmer than the first time I took her and her tail didn't stop wagging! She is a very friendly and affectionate girl and enjoyed being petted and responded with lots of kisses and snuggles. She knows the "sit" command and is very gentle when taking treats from you. Becky can pull quite a bit on the lead when she first comes out of the kennel, this does settle down when she has been out for a little while. She was fine walking along a busy road. Becky wanted to meet the people we passed and she is certainly really friendly to other people, we did see a large dog in the waiting room at the vets and she gave no sign of a negative reaction. She travelled well in the car to the vets (not crated) and just sat and then lay on the back seat. A lady waiting to collect her cat commented on what a friendly dog she was. Whilst waiting for the vet I walked her up and down the waiting area because every time I sat down she was up licking my face and snuggling in wanting stroking! She wasn't pulling at all - the lead was loose between her and me. A lady bent down to pet her because she was so friendly and got a wet sloppy kiss as a reward! When I came out of the examination room there was a large Weimaraner in waiting room; no reaction whatsoever from Becky which seems a good sign, though anyone adopting her would need to be careful with any introductions (as with any dog) Becky also travelled well in the car on the return journey. She loves playing with toys in the enclosure and dribbles a football like David Beckham! Becky would need a secure yard or garden to play in, she does need to practise her footy skills after all! The girls at the kennel adore her and she loves the attention she gets. Becky truly deserves to find a wonderful home where she will get the love and care she needs. She is still young at 8 years with lots of time ahead of her to enjoy life with someone. Ideally Becky needs to be the only pet in the home and needs a household with no young children due to her bounciness. This fantastic girl will make a great companion for someone, could that be you?'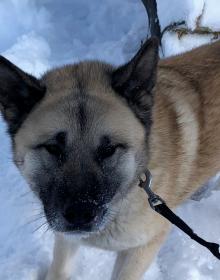 Name: Hamish
Age: 6 years
Breed: Akita
Details:
Hamish is a handsome 6-year-old Akita x . He came to us after being signed over to an Inspector. His owner said he was non-destructive in the house (and he was left alone for far longer than he deserved). But of course, he has had a lot of unsettlement so we would say to treat him like a puppy until he settles in. But he is good in his kennel .
He was described as excitable, friendly and clumsy. Hamish has lived with children but we would prefer any children in a potential home to be older than 10 yrs. 
Hamish travels well in a car and was no bother on trips to the vets, he sat and lay down when asked to in the car and behaved impeccably . He was also well behaved in the vets . He will need an owner who is used to larger dogs as he is very active , strong and needs someone who can meet his exercise needs. A nice garden / yard with a high wall/fence where he could potter would be good too. He does like being in the fresh air.   
His recall isn't very good and we are told that he would chase sheep so he does need to be walked on a lead – unless he is in a safe, secure area. He doesn't react to other dogs at all, or even the chickens that potter outside at the kennels .
Hamish loves a cuddle and the kennel staff have had great fun with him and say he is like a big soft teddy, he will also give up toys when asked with no problems. Hamish was originally from another rescue organisation and so his next home really needs to be his forever home, if you can offer him a home where he is the only dog, where you can offer him the exercise he needs with an enclosed yard/garden  where he can play and where, if  any children, they  are over 10 years old, please do contact us to arrange a viewing. If you met him you would adore him.
Or would you be willing to foster him till his forever home comes along?