RSPCA Dogs & Puppies For Adoption - Keighley & Craven District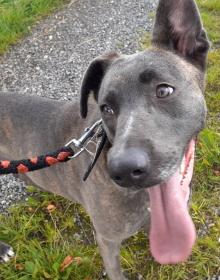 RESERVED
Name: SHEEVA
Age: 2 YEARS APPROX
Breed: CROSSBREED
Details:
RESERVED PENDING HOME VISITS
Sheeva is a gorgeous crossbreed, who we think has a bit of Weimaraner in her. She is a loving dog who will make a loyal companion for the right person. We do not have any previous background information as sadly Sheeva was abandoned in a property with 4 other dogs. When Sheeva first arrived she was quite boisterous and needed to learn some manners, the kennels have done lots of training work with her and she has improved massively in a short space of time – she really is a clever dog.
Sheeva is strong on the lead and needs to be walked on a harness which helps with this. She gets excited and quite bouncy when it is walk time – all dogs love getting out and about but we do feel a lot of her personality is very much related to the Weinmaraner in her so a knowledge of this breed would be a bonus. We do recommend that whoever is lucky enough to have this lovely lady in their life continues with her training and socialisation to get the best out of this lovely dog. She is treat motivated so this really helps with her training. We do feel she could live with a similar size dog but obviously this would depend on the introductions at the centre. Older secondary school children would be best and a cat free home too. Could Sheeva be the one for you?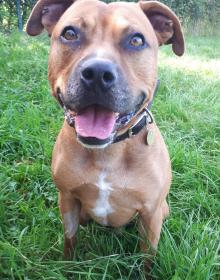 RESERVED
Name: LENNOX
Age: 4 YEARS APPROX
Breed: STAFFY
Details:
Lennox is a very handsome, sweet dog with a great temperament who is always full of beans - as most staffs are. We feel that an owner with experience of the breed would be best for Lennox rather than a first time owner. Lennox came to us via an inspector due to a change in his owners circumstances. He is very sweet and intelligent but will need further work to help him learn how to appropriately use his energy. He hasn't ever lived with cats so we recommend a home without them. He is social with other dogs and has been walked with the other dogs at the centre but he would be best in a home where he is the only pet, this would suit his personality and he could have someone's full attention and love. Lennox can be 'full on' at times and a home with secondary age school children would be best for him. Lennox will make someone a great companion in the right home, could that be you?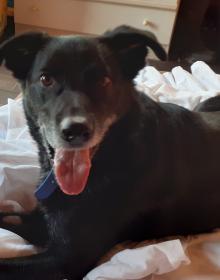 RESERVED
Name: FREDDY
Age: 9 YEARS OLD
Breed: BORDER COLLIE CROSS
Details:
RESERVED PENDING HOME VISITS
Freddy is a very sweet boy who is going to need a very special home that can meet his specific needs. Freddy has spent time behind reception and will lick and cuddle staff constantly - he is a just a big softy at heart. He is a strong dog and needs someone who can handle this. Freddie isn't happy in the kennel environment and although he will need continued work, we feel that for his benefit this is going to be best done in a home environment away from stressful kennel life. When considering Freddy you will need to be prepared to support his issues with time and patience, as he is an older boy who needs that little extra tlc. He has got specific issues with vets, and veterinary procedures which adopters will be made fully aware of the point of enquiry, but we are advising that he only be put in this environment if absolutely needed or necessary. He can be a little wary of males, so care must be taken when introducing to new people and situations. Although he is ok with some dogs, we feel a quieter environment is going to be best for him with no other animals or children. He would benefit from shorter and often exercise due to old age issues, again full details will given on enquiry. Once he's built a bond he loves to be with you, and is the best of companions. He does display some herding behaviours when around traffic and this will need continued work within the home setting. All in all, despite some training needs, Freddy is an affectionate, loving character who needs someone experienced to help him in this time of life, to enjoy his retirement and settle in his happy forever home. He definitely needs a garden or big yard. Are you Freddie's special person?