RSPCA Dogs & Puppies For Adoption - Keighley & Craven District
Name: GiGi
Age: 18 MONTHS APPROX
Breed: GREYHOUND
Details:
IMPORTANT: Our branch dogs are now cared for at a kennelling facility at our neighbouring RSPCA branch, please click the 'adopt me' button below to find out how to arrange viewings.
GiGi is a beautiful, gentle and loving lady who adores human contact. She is well behaved whilst walking and she does like other dogs although she can be shy around the more boisterous k9 companions and tries to distance herself from them. Careful introductions are a must for her to be confident around any new friends. We feel that GiGi may benefit from being around another dog in the house. We would also recommend an adult only home with experienced dog owners. Could GiGi be a perfect match for you?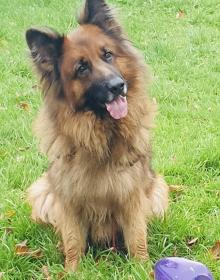 Name: MAX
Age: 4 YEARS APPROX
Breed: GERMAN SHEPHERD
Details:
We are advertising Max on behalf of RSPCA East Lancs branch. If you would like more information, please call them directly on 01254 231118 Thank You.
Max is a very handsome boy who loves playing with his toys. He has found it stressful in the kennel environment and can be reactive to dogs and some people who take him by surprise, so we have trained him to happily wear a muzzle whilst he is out on walks. Max needs a home with an owner who has had previous experience of the breed and who can spot the signs of over excitement early enough to help him remain calm so he can make the right decisions. Max has had training to help him past this reactiveness and has shown great improvement however his new owners must be willing to continue this and training advice will be given. He is very responsive and loving once he knows his boundaries, so long as you are calm but confident with him. With all this in mind and the fact Max is such a big boy he must be the only pet in the house with adult only adopters. All Max wants is a second chance at his happy ever after and to be the loving, loyal companion we know he can be.