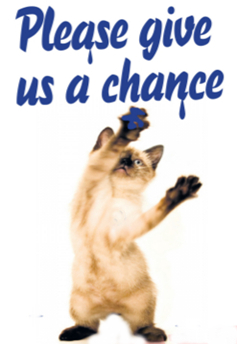 If you would like to give a pet that much needed second chance in life, then you've come to the right place. Most of the animals in our care have had a difficult start in life, having been victims of cruelty. For that reason we need to find special homes, with special people, who can help our pets to learn what it's really like to be in a loving, caring home.
Most of our animals are in foster homes within our branch area, when you arrange a viewing we will pass the foster carers contact number to you so that you can arrange a time that is convenient. If the cat or dog is being cared for at our branch kennels we can arrange access for you to view, the viewing times at the moment are 8-11am and 3-5pm daily. The kennels have an enclosure where you can take animals to play and we also have a small stable where you can sit and play with the cat or dog if the weather isn't too kind when you visit.
Polite Notice: If you make an appointment with us to view an animal at the branch kennels our volunteers will usually try and meet you to discuss any questions you may have about the animal or the branch adoption process. If you are viewing at a fosterer's home the carers will also be happy to spend time with you and answer any questions you may have. If for any reason you are unable to attend or you have changed your mind could we please ask that you either give us a quick call, text or email just to save our volunteers having a wasted journey to the kennels or to save our fosterer carers waiting at home. Once you have viewed an animal could you also let us know if you would or would not like to proceed with the adoption, just so we can move on to anyone else that may be interested in the animal. Thanks for your help.    
You can arrange a viewing by sending us an email at any time – our mailbox is checked at regular intervals during the day and we aim to reply within 24 hours (although usually much sooner than this) Please let us know where you live, if you have children or other pets, work commitments and anything else you think may be relevant to the adoption. All the information you provide helps us to match an animal to your circumstances. You can also call us at weekends – our phone line is operational from Friday morning to Sunday evenings. During busy times you may be asked to leave a message and we will call you back as soon as we can.
---
---

Ways to contact our branch:
enquiries@rspca-craven.org.uk
Our emails are checked daily and we aim to respond usually within 24 hours.
You can also call our branch line on: 07949 22 99 55
The branch line is in operation from Friday mornings through to Sunday evenings.
 If you are wondering how our adoption process works and what happens next
you can find out here